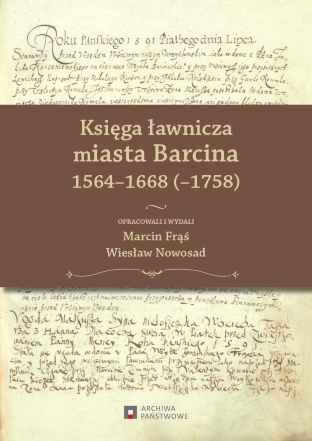 Księga ławnicza miasta Barcina 1564-1668 (-1758)
Autor:
Frąś Marcin, Nowosad Wiesław (oprac.)
Wydawnictwo:
Naczelna Dyrekcja Archiwów Państwowych
Miasto wydania:
Warszawa
Rok wydania:
2022
Liczba stron:
343
ISBN:
PAPIER: 978-83-66739-49-9
PDF: 978-83-66739-51-2
EPUB: 978-83-66739-50-5
MOBI: 978-83-66739-52-9
Cena:
Wszystkie formaty i wydania

Kup książkę

PDF

EPUB

MOBI
Opis
Publikacja jest owocem współpracy Naczelnej Dyrekcji Archiwów Państwowych i Archiwum Państwowego w Bydgoszczy.

Jest to niezwykle starannie opracowana edycja źródłowa księgi miasta położonego na pograniczu Kujaw i Wielkopolski, lokowanego w dolinie Noteci. Księga jest kopalnią wiedzy o topografii Barcina i rozmaitych obiektach miejskich. Służyć może również do badań nad społecznością małego miasteczka i jego rodzin mieszczańskich, szlacheckich, żydowskich oraz kolonii Szkotów (Szotów). Jest to jedno z niewielu  podobnych źródeł tego regionu, które przetrwały do naszych czasów.